Pursue Opportunities in Sales
As a member of the sales team at Liberty Mutual, you aren't just selling an insurance product. You're providing people the protection they need during their most vulnerable moments. As your employer, we're here to help you make the most of today and pursue your future with confidence, too.
In a sales role, you can make a real impact on people's lives while growing your career at the same time. We make sure of that by offering you paid sales training, career and professional development opportunities, and benefits starting on day one. Not to mention, you'll do it all within a culture that fosters balance and flexibility by removing the barriers to your sales success.
It's a sweet deal.
Click To View Jobs
Does this sound like you?
Challenge Facer >
Not even the most challenging situations knock you off your A-game, because you know how to keep your cool no matter what the day throws your way. Use your power of positivity to take on fast-paced customer interactions with ease and composure.
Full-Time
Team Player >
Even though you'll spend a fair share of time solo in this role, you're able to establish and maintain lasting relationships with your fellow team members back at home base. And as a salesperson, we know you like a little friendly competition to shake things up. You'll experience a bit of that in this role with team members who, at the end of the day, are in it to better our customers.
Master Time
Manager >
You know how to multi-task even while you're multi-tasking. When it comes to meetings, schedules, and juggling multiple leads at once, you're able to think days, even weeks, in advance. Because you know making the sale requires some serious planning ahead.
Self-Motivator >
In this role, you don't need someone to manage your every sales move. And you like that. You're a proactive self-motivator who develops client relationships within local communities. You're able to calls the shots, and you understand the outcome of your career is fully dependent on the input you give to it.
Interested in an inside sales position instead? View our current inside sales opportunities, here.
Paid Insurance Training
We want to help you do big things. With your existing sales skills and our paid insurance training, there's no limit to your success at Liberty Mutual.
Our KEYS to Sales Success is a 10-week onboarding program that guides Sales Representatives to develop the knowledge and skills necessary for the role.
The program includes:
Self-directed study
1:1 or small-group training sessions
Job shadowing
Frequent coaching conversations
On-the-job activities with Manager support
The KEYS to Success training program is really helpful to those who don't have a background in sales. It makes sure you think about the scenarios that you may find yourself in once you begin selling and therefore mimics real world examples. This is the best way to learn.

— Kryslin, Sales Representative II
Click To View Jobs

Rewards & Recognition
Opportunities
Start practicing your thank-you speech. You could be giving it a lot. At Liberty Mutual, when you give each day your all, we give it right back to you in the form of recognition, appreciation, and rewards for your sales performance. Because when you put in the effort, you deserve all the credit.
We offer programs designed to reward you at all levels of your career at Liberty, including recognition for those just starting out in sales. Incentives often include cash rewards, as well as trips to celebrate all your hard work — past trips have included places like Paris and Maui.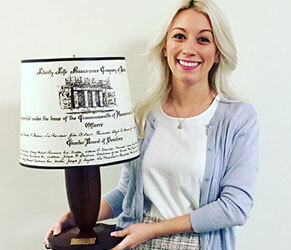 A big congratulations to the winner of our Lamplighters Club "Fast Start" award, Lily!
361 Results Found for Sales